Veuve Clicquot Brut Yellow Label Champagne with Ice Box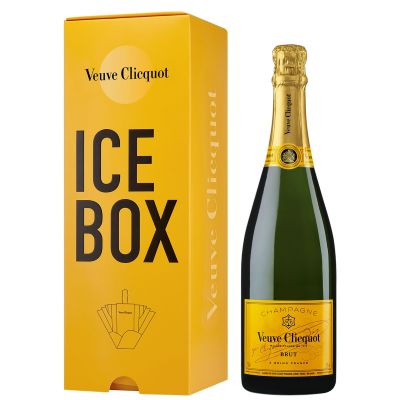 Embodying the innovation of Veuve Clicquot and its ability to "think outside the box," the Clicquot Ice Box opens like a flower, metamorphosing from a simple box to an ice bucket. Its inner, waterproof layer is composed of 70% recycled materials, and is reusable up to 10 times. This makes it not only a beautiful object but our most sustainable version yet…just add ice and enjoy the surprise!
Aromas of lemon, currant, clove and mint; slightly rustic. Then fresh and frothy, with a strong mousse. Distinctly floral suggestion of rose petal to go with the berry flavors. Rather lacy for a wine from this house; not as weighty as some past releases of this wine. But boasts plenty of extract, and a generous, firm finish.