Los Azulejos Skelly Tequila Bundle - 750ml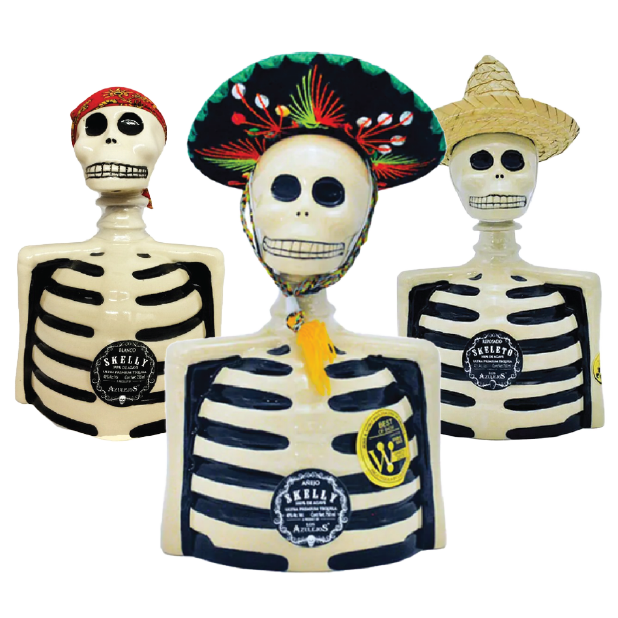 - Los Azulejos Skelly Reposado Tequila - 750ml
Tequila Los Azulejos Reposado is 100% agave, aged in premium oak barrels for six months where it acquires the characteristics that define its personality. This Tequila is worthy of sipping to truly enjoy and discover its delivate flavors. Our Reposado tequila is aged just long enough to pick up some smoothness and notes from the oak, yet not long enough to lose the characteristic agave flavor of a great tequila.
Pale yellow straw color. Initial nosing passes are rife with dill and brine; aeration brings out deeper scents of salt, green vegetation and agave. Palate entris is properly tart, acidic, and lean; mid-palate features a strong, firmly structured texture and flavor of sweet oak, and vanilla. Finishes long, sweet and vegetal. A reposado whose sweet disposition is its finest asset.
- Los Azulejos Skelly Anejo Tequila - 750ml
Los Azulejos Anejo is 100% agave, since its birth it is destined to become a work of art; its rests patiently for 18 months in premium oak until it achieves perfection. This is without a doubt our masterpiece, the ultimate expression of smoothness and aroma.
- Los Azulejos Skelly Blanco Tequila - 750ml
A sensational 100% Blue Agave Tequila in a fun, artisanal bottle that is represents Mexican culture in all of its splendor. This fresh un-aged tequila is the proud winner of a 2009 Gold Medal from SFWS. Opening bouquet is snappy fresh, ashy and smoky; licorice, anise, dill and boiled asparagus emerge with air contact. On the palate, the taste is fresh, lovely, appropriately zesty, peppery and vegetable with a hint of sugary sweetness at mid-palate. Aftertaste is long, laced with pepper and refreshing.