Johnnie Walker The Collection Set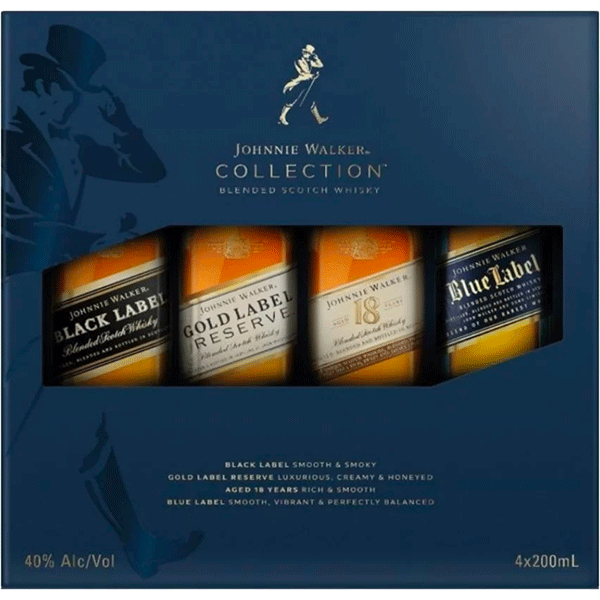 Collection includes one bottle each of 200 mL Johnnie Walker Black, Gold Reserve, Aged 18 Years, and Blue.
"The House of Walker, with nearly 200 years of blending excellence, offers this incredible sampler pack of four whiskies, each of which earned a reputation for superior balance, complexity and consistency. Our significant investment in maturing malt whiskey stocks guarantees this quality the world over.
"Johnnie Walker Black: a deep and complex flavour which is also an unquestionable mark of power and refinement. It is a luxury blend and a luxury brand, with a completely individual personality.
"Johnnie Walker Gold Reserve: a bold, confident Scotch whisky as luxurious and indulgent as its name suggests.A multi-layered blend, it offers a smooth balance of sweet fruits and creaminess that evolves into deeper honeyed tones before finishing in lingering waves of wood, fruit, and light, sweet west coast smoke.
"Johnnie Walker Aged 18 Years: made using whiskies that have matured for at least 18 years. Carefully chosen for their flavor and quality, these whiskies make for a wonderful combination of both classic and contemporary tastes – blending notes of citrus and fragrant almonds, with warm vanilla and a hint of tropical tangerines. When you're looking for a whisky to make an occasion or celebration extra special, Johnnie Walker Aged 18 Years is an excellent choice.
"Johnnie Walker Blue: our rarest blend. This isn't a whisky for beginners. It's challenging and an acquired taste, but like the finest rewards in life is worth it. Blue Label is made from a few exceptional whiskies with powerful flavours. Each bottle is precious to us." —producer