Frank August Small Batch Bourbon Mizunara Edition 750 ML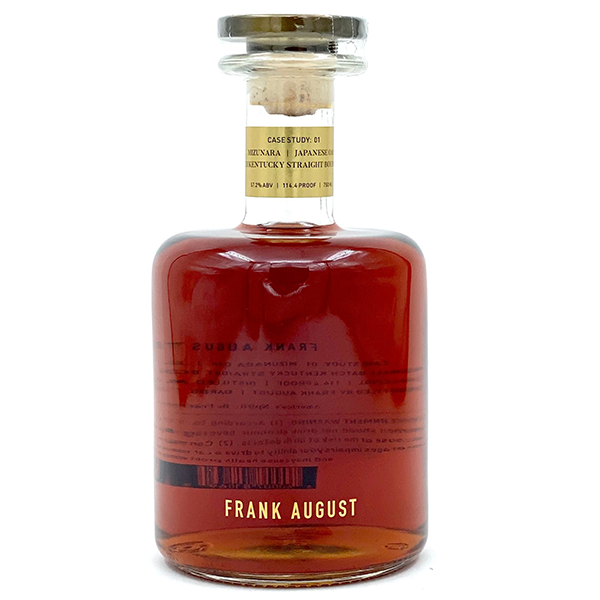 EXPRESSION: For the foundational release of 'Case Study', Frank August hand selected 5 barrels to be finished with Mizunara, Japanese Oak. Due to the porous nature of Mizunara, each of the 5 barrels were tested every 30 days to monitor the development of the flavor profile that was being impacted by this rare and beautiful wood. After an undisclosed time, the flavor profile evolved into a beautiful bend of butterscotch and baking spices. At which time, the bourbon whiskey was dumped and batched to preserve the wonderful notes that were created. The final step was to find the perfect proof that highlighted all the remarkable notes that the Mizunara had imparted on the bourbon whiskey, which ended up being 114.4 proof / 62.2 ABV%.
APPEARANCE: A rich amber with discerning legs that cover your glass.
NOSE: Frank August's Case Study: 01 | Mizunara opens with an initial note of butterscotch before some mild rye spices make their way forward.
PALATE: There's an immediate warm, smooth, butterscotch prof ile that hits the front of your tongue, before slowly moving toward the mid-palate, where notes of apple and mild spices begin to pick up. As the whiskey coats the mouth, and moves to the back of your tongue, there's hints of mint and pepper, before notes of butterscotch and caramel make their return.
FINISH: A beautiful pronounced finish that evolves with the time between each drink. While notes of butterscotch persist, the strength of the 114.4 proof provides an ideal balance that warms your mouth and chest and highlights some of the softer baking spice notes.