Neat Facts About Oban Scotch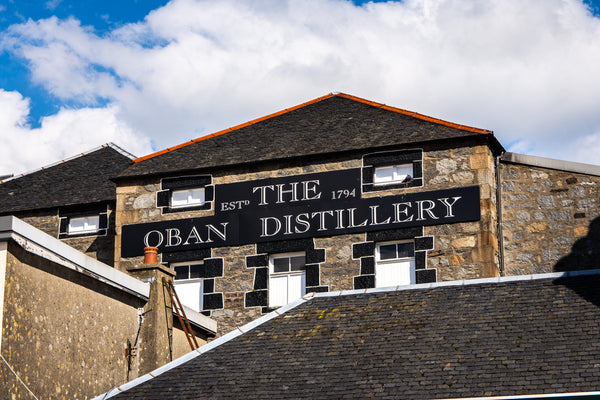 Oban is a small Scottish town along the Firth of Lorn. Despite being a small town, Oban has a rich history and continues to make a name for itself. Out of Oban comes Oban Scotch Whiskey. In our latest blog, we share interesting facts about Oban Scotch whiskey. 
History of Oban Scotch
In 1874, brothers John and Hugh Stevenson built the Oban Distillery. Over the years, it has seen different owners and undergone several changes. In 1866, it was acquired by Peter Curnstie, and in 1883 by Walter Higgin. Under Higgin, the Oban Distillery saw its first set of changes. Despite the rebuilding of the Oban, the distillery only remained under him for seven years. In 1890, Alexander Edward, who owned Aultmore Distillery then, bought Higgin out in hopes of blending the two companies. Unfortunately, things did not turn out for Edward, and he later sold it to the Dewars in 1923. In the years following, Oban went under the radar for several years. It regained popularity and status in 1972 when a new still house was built. During this time, Oban launched its 12-year-old expression and became an early player in what was the new single malt category. Some 20 years later, when Oban joined the Classic Malts Selection, its 20-year-old expression was relaunched as a 14-year-old one. Since then, it has remained a big whiskey player in the region and worldwide. 
The Oban Distillery Came Before The Town
An interesting fact about the Oban Distillery is that it came before the town. Before the distillery, there really wasn't anything around aside from the little fisherman villages along the shore. When the distillery was built, the area quickly developed into a modern town. The developments were brought up and around the distillery. Today, the city continues to thrive because of its world-renowned distillery.
 Quality Over Quantity
"Out of this smallness comes a scrupulous attention to detail, reverence for tradition, and world-class whisky."
 One of the endearing things about Oban Distillery is its small size. It sits on just a little over an acre. The distillery proves that quality over quantity is the way to go. To this day, Oban continues to be one of the smallest distilleries in all of Scotland. And under its umbrella company, Diageo, it produces the smallest volume of products per year. Another interesting fact to note is that in this small distillery, only seven people are involved. The team that makes it all happen includes Ronald Whiteford, Norman Macfarlane, Timothy Bowels, Ricky Halcros, Patrick Steeman, and Derek MacLean.  
Oban's Distilling Process
Consistency is key, and Oban proves this to be so. While Oban has seen several different owners and minor changes over the years, Oban remains true to its original distilling process. Oban Distillery uses Scottish malted barley from Burghead Maltings. The barley is turned to grist and later mixed with traditional mash tun. It is then combined with hot water from the Loch Gleann a'Bharraidh Reservoir and turned six times each week until it's ready to be fermented. After, the product is placed into washbacks and set to rest for over a hundred hours. During fermentation, worm tubes are used to condense their distillates. The entire process produces fruity and floral notes and full-bodied smokey malt. This process has been the same since the beginning, and the distillery is committed to upholding this decades-long fermentation process. 
Oban Scotch
Oban Scotch has lasted all these years, and for a good reason. It serves its drinkers smoky and peaty malt qualities. Its rich amber color and hints of toffee are worth a try. Get your hands on a bottle of Oban 14 Single Malt Scotch today. At Liquor Bar Delivery, we carry Oban 14 Single Malt Scotch and Oban The Distiller Edition. Order them by clicking here: ORDER NOW!
---