5 Cocktails Perfect for Spring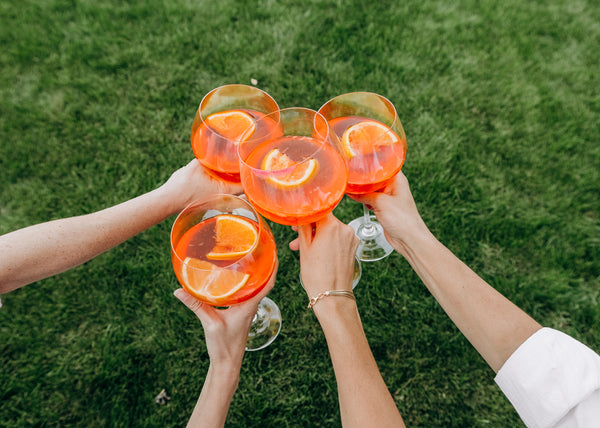 It's officially spring! What better way to celebrate the flowers blooming, longer days, and warmer weather than by rounding up a few of our favorite spring cocktails? In this article, we share 5 cocktails perfect for spring. Read along to see if anything sparks your interest! We're sure you'll find the perfect one.
White Sangria Verde
There's nothing like a nice tall glass of cold and refreshing sangria. While the possibilities are endless for making sangria, a White Sangria Verde is the ultimate nod to spring's budding flowers and all the new growth. Our favorite spring recipe involves a little strawberry, mint, white wine, and vodka. It's a refreshing, simple, and crispy take on everyone's favorite fruity punch. Feel free to use anything from your favorite Chardonnay, Pinot Grigio, Sauvignon Blanc, or Riesling. Either one should work just fine. 
Spring Buzz Cocktail
You can't have spring without lemonade or bees, which leads us to the next spring cocktail on our list. Think lemonade but with a twist and with the help of nature's little buzzy helpers. The next on our list is a Spring Buzz. A Spring Buzz cocktail is a little mixture made of chamomile tea, whiskey, Germain, lemon (juice & slices), water, and honey. It's sweet, delicious, and easy to sip on. It's a great little tribute to all the tall glasses of lemonade enjoyed during spring as adolescents and nature itself.
Blood Orange and Mezcal 
The third item on our list is a blood orange and mezcal cocktail. While a glass of this can be enjoyed all year round, it is especially ideal in the spring when the warmer weather starts to pick up. A blood orange and mezcal cocktail is made of blood orange juice, orange slices, mezcal, sweetener of choice, tonic water, ice, and mint springs. It's sweet, tarty, and smokey, delivering just the right punch. 
Watermelon Mojito
The last spring cocktail on our list is a delicious watermelon mojito. It's refreshing, sweet, and tropically fine all in one. While watermelons are primarily enjoyed in the summer, there's no reason you can't enjoy watermelons now. A watermelon mojito is made of watermelon, mint leaves, lime juice, simple syrup, light rum, and club soda. Enjoy it now; before you know it, summer will be just around the corner. Will summer's arrival by getting a head start with a glass of watermelon mojito.
Get Your Ingredients Today!
There you have it, our top 5 cocktails perfect for spring! We hope you found this article. If you're always on the hunt for cocktails worth trying, be sure to keep up with our monthly blogs and social media accounts. Looking to gather some ingredients for your next spring cocktail? Check out our list of wines, spirits, and liquors by browsing our website. 
---