One of Japan's Best, Hibiki Japanese Harmony Whisky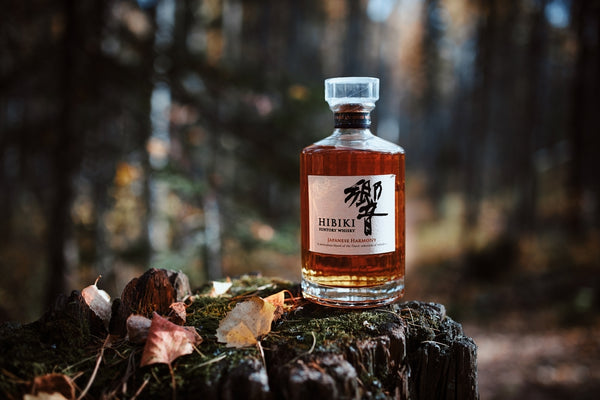 If you've embraced the world of whiskey but have yet to savor the delights of Japanese varietals, seize the moment and embark on a unique tasting experience. Over the last decade, Japanese whisky has soared in popularity, captivating aficionados worldwide. One of the most sought-after lines is the Hibiki collection, proudly crafted by House of Suntory, which is Japan's first whisky distillery. If you're eager to experience the excellence and richness of Japanese whisky, continue reading this blog. In it, we unveil one of Japan's best, Hibiki Japanese Harmony Whisky.
The Blend
Hibiki Japanese Harmony is an exquisite fusion of Japanese malt and grain whiskies sourced from renowned distilleries like Yamazaki, Hakushu, and Chita. This harmonious blend is elegantly presented in the brand's iconic 24-faceted bottle, which beautifully symbolizes the ever-changing Japanese seasons.
Tasting Notes
Delightfully light and approachable, each sip of Hibiki Japanese Harmony offers a tantalizing experience with its alluring hints of orange peel and creamy white chocolate. Its smooth and moreish character makes it a true pleasure to savor, inviting you to indulge in the refined essence of Japanese craftsmanship.The palate reveals distinct notes of almond, dried fruit, and nougat, culminating in a sophisticated and spicy finish that lingers gracefully on the taste buds.
Awards & Recognition
Hibiki is renowned for crafting highly acclaimed whiskies within Japan and globally. Since its debut in 2016, Japanese Harmony has been showered with numerous prestigious awards, a remarkable feat for a whiskey without an age statement. In 2015, it earned the coveted double gold recognition at the San Francisco World Spirits Competition, and the following year, it secured the gold prize at the International Spirits Competition. Even the limited edition Master's Select version, priced significantly higher than the regular bottle, triumphed with a gold medal at the 2016 World Whiskies Awards.
Get Yours Today!
Hibiki Hibiki Japanese Harmony is one of the best. It's delicious and easy to enjoy. There is no wonder why it's received so many awards over the years. While many Japanese whiskeys are hard to come by at Liquor Bar Delivery, we have everything you could want and need. Stock up on all your favorite bar cart bottles and add Hibiki Japanese Harmony Whiskey to the list by shopping with us online today.
---