Interesting facts about Buffalo Trace Straight Bourbon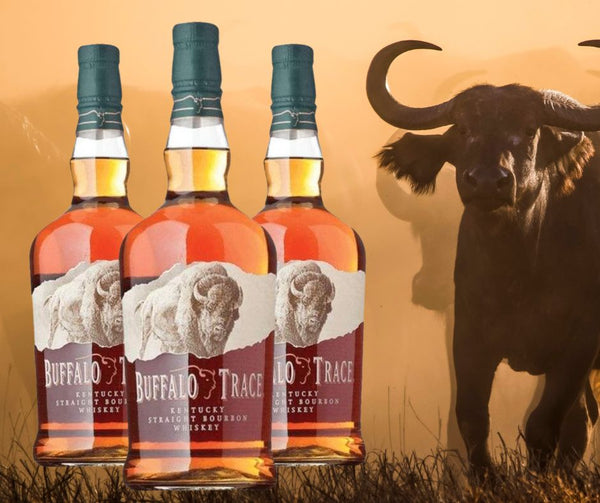 If you know anything about whiskey or bourbon, there's no doubt that you know about buffalo trace. And, if not, there's still a big chance that you know about it just as well. It's iconic buffalo image and birch font lettering is hard to miss. It's stocked on nearly every bar display and liquor store shelves. This of course, is for good reason. Buffalo Trace comes from a rich history and continues to be a crowd favorite year after year. In our latest blog, we'll be exploring some interesting facts about Buffalo Trace Straight Bourbon and the liquid gold it encapsulates. 
Buffalo Trace Distillery
As hinted in its name, Buffalo Trace is manufactured at Buffalo Trace Distillery in Frankfort Kentucky. Buffalo Trace Distillery is one of the oldest distilleries in the United States. Over the years, it has it has been acquired by different parent companies and has been renamed several times.  Its origins began in 1975 when the Lee brothers, Hancock & Willis Lee, began distilling at Buffalo Trace. Through the years, it has been associated with big names such as Elmer T. Lee and George L. Stagg. Buffalo Trace has overcome many adversities. It was one of the few distilleries to survive the prohibition years (1920-1933) under the guise of medicinal purposes. Today, it is owned by the Sazerac Company and has been since 1992.  Buffalo Trace Distillery produces many other notable whiskey and bourbon items such as Blanton, Eagle Rock, Pappy Van Winkle, and George T. Stagg to name a few. All this to say, Buffalo Trace Straight Bourbon is made by one the biggest and best American distillery. 
Buffalo Trace Name
Ever wondered where buffalo trace gets its name? If so, you aren't the only one. Buffalo Trace gets is namesake from a literal ancient buffalo trace. It is a place known to have been traversed on by buffalos crossing the Kentucky river, travelling between Kentucky and Illinois. While there's probably no better name for it, it was originally called the Old Fire Copper Distillery and later the George T. Stagg Company for quite some time. It wasn't until 1999 when it was rechristened as Buffalo Trace, subsequently birthing the Buffalo Trace Straight Bourbon collection. Additionally, its name not only pays as an homage for the wildlife in the area, but also for the countless blue-collar Americans who use the trails just as well. It's an American made product with strong American roots.
How Buffalo Trace Kentucky Straight Bourbon is Made
Like all the other fine products made at the Buffalo Trace Distillery, Buffalo Trace is made from the finest corn, rye, and barley malt. It is aged in an oak barrel for a minimum of 9 years, which is believed to be its peak maturity age. Its fine ingredients and perfected distilling process has won it several awards. Its most recent awards include the 2020 Gold World Whiskies and 2019 Gold American Whiskey Masters.
Buffalo Trace Kentucky Straight Bourbon Review
Being made in a historical distillery is enough to say that you can't go wrong with a bottle of Buffalo Trace Kentucky Straight Bourbon Whiskey. The expert distillers at the Buffalo Trace Distillery take bourbon whiskey seriously and know how to make a quality product.  A bottle of this fine bourbon offers a bold yet gentle tasting. It has a sweet and well-rounded profile. On the palate, it combines tastings of dried fruit, spices, and oak. On the nose, there are hints of floral and fruity aromas. It can be enjoyed neat or on the rocks, although many prefer it neat. You can enjoy it as is or use it in your favorite cocktail.
Try it out today!
Ready to give it a try, get yours today at Liquor Bar Delivery. At Liquor Bar Delivery, we offer Buffalo Trace Kentucky Straight Bourbon and many other classics made alongside it at the Buffalo Distillery. Check out our selection and order one today. Click here!
---