BACON OLD FASHIONED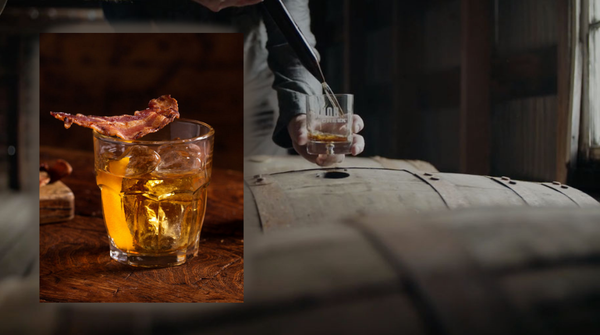 Happy Fathers Day! When they want "nothing" for fathers day, it's a sign. You know exactly what they want! Get Dad one of our many Knob bottle collections and why not make him a drink he would love! Bacon old fashioned is the perfect savory cocktail Dad will enjoy and relax to on his day.

Cheers for all those times Dad said yes, when mom said no!
INGREDIENTS
1 1/2 PARTS Knob Creek® Smoked Maple Bourbon

3 TSP. Brown Sugar Simple Syrup

3 DASHES of Orange Bitters Orange Peel

1 STRIP of Candied Bacon
DIRECTIONS
Cut the bacon strip in half. Chop one half into small pieces.

In a cocktail shaker, add the small bacon pieces, brown sugar simple syrup and bitters.

Add ice to the cocktail shaker and proceed to shake until well mixed. About a dozen times.

Double strain the mixture into a low ball glass with fresh ice, removing the bacon pieces.

Add bourbon and stir.

Garnish with the remaining 1/2 bacon strip and a sliver of orange peel.
---